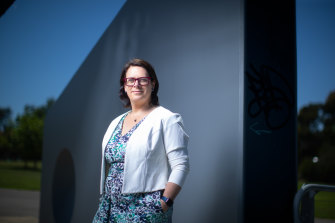 One of Victoria's most senior officials has weighed in on the Australia Day debate, telling staff it means "invasion, associated violence and dispossession of the country" for many, and civil servants who don't want to celebrate January 26 can take another break one day.
Families, Equity and Housing Minister Sandy Pitcher sent a message to staff the day before this year's public holiday, pointing to a little-known public service rule that gives officials public holidays in lieu of other days s right.
Sandy Pitcher, Minister of Families, Equity and Housing.cedit:Simon Schluter
"I want to acknowledge and acknowledge that this is not a day of national celebration," Pitcher wrote.
"For some, it's a day to celebrate with friends and family," Pitcher said. "But for many, January 26 can be a difficult day, especially for Aboriginal and Torres Strait Islander people and for reflection Australians of invasion, related violence and deprivation of national territory. "
"If you would like to discuss working on January 26 and taking a potential alternative leave, please speak to your manager and consider operational and business requirements."
In the same message, Pitcher said she wanted to encourage people to reflect "more deeply" on Australia's past.
Under section 50.5(a) of the Victorian Public Service Act (2020), state bureaucrats have the power to change any public holiday to another day "of significance to the employee to attend a religious or cultural event or for similar reasons".
The news of Pitcher came amid calls for January 26 to be a public holiday. It was considered offensive and sad by many as it marked the day in 1788 when Arthur Phillip, the first Premier of New South Wales, planted the Union Jack on Sydney Cove and declared British sovereignty over the land.
According to reports age This week, staff at the University of Melbourne are fighting for the right to reject Australia Day as a public holiday and take a day off on a day of their choice in a show of solidarity with Aboriginal people.
National Tertiary Education Union Victorian assistant secretary Sarah Roberts said fighting for the right to reject the January 26 public holiday could be a focus of future negotiations between the union and other universities.
"In the union movement we call it Invasion Day, so replacing it with a public holiday recognises that for many Aboriginal and Torres Strait Islander people this is a day of despair, fear," Roberts said.
More to come.
Highest ratings in the country
from our partners
source: Read the full article